Founded in March 2019 and headquartered in Chennai, Geek Technology is an electric appliances brand. It aims to revolutionize Indian kitchens and homes with Technology based appliances offering convenience & healthy living. 
Geek was founded by two entrepreneurs and former colleagues – Murugan Dhandapani and Prathap A.
With an innovative approach, they've transformed everyday cooking into a seamless experience, blending technology, convenience, and health.
The Back Story
Murugan Dhandapani, having gained extensive experience in brand strategy, product management, and marketing roles at renowned companies such as Sify, Tata Teleservices, and Plintron, made a pivotal decision in 2016 to venture into entrepreneurship. 
Driven by a passion for innovation and a desire to create something unique, he founded a company aimed at creating and nurturing  D2C brands in the e-commerce sector.
On the other end, Prathap, an engineer who initiated his professional journey in ICICI Bank, swiftly transitioned into significant roles within the marketing team of a company holding the exclusive license for Reynolds. 
Following his ambitious spirit, Prathap departed from his corporate career in 2017. 
Recognizing the potential of Murugan's vision, he joined forces with him, assuming the role of Director in their initial startup venture, BlueDeer.
Although their journey commenced with BlueDeer as an e-commerce platform, the duo's keen insight into market demands led them to a new path.
In 2019, they co-founded Geek Technology, aiming to revolutionize the culinary landscape with innovative kitchen solutions.
Addressing a Market Gap
Driven by the realization that Indian kitchens were predominantly dominated by legacy brands and that hindered the adoption of new global tech-driven appliances in Indian households, Murugan and Prathap embarked on a mission to bridge the gap.
They saw the need for advanced kitchen tools that could assist and automate the cooking process, especially tailored to Indian homes. As per a 2015 Global study, Indian women spend 13 hours a week in kitchens compared to 4 hours by a Korean women.
Thus, Geek Technology was founded in 2019 focusing on enhancing customer convenience and promoting healthier cooking practices through technology.
Initial Challenges
Geek faced initial challenges as pioneers in a new category. 
While they had cracked a product-market fit, people just were just very apprehensive about switching to new appliances for their kitchens.
To overcome this, they implemented targeted advertising campaigns, creating awareness among potential customers. 
Leveraging the power of social media, they engaged influencers, facilitating market trials & penetration. 
Gradually, as consumers embraced their products, word-of-mouth referrals triggered a positive snowball effect.
Tech-driven products
At the heart of Geek's success lies its flagship product, GEEK RoboCook electric pressure cooker.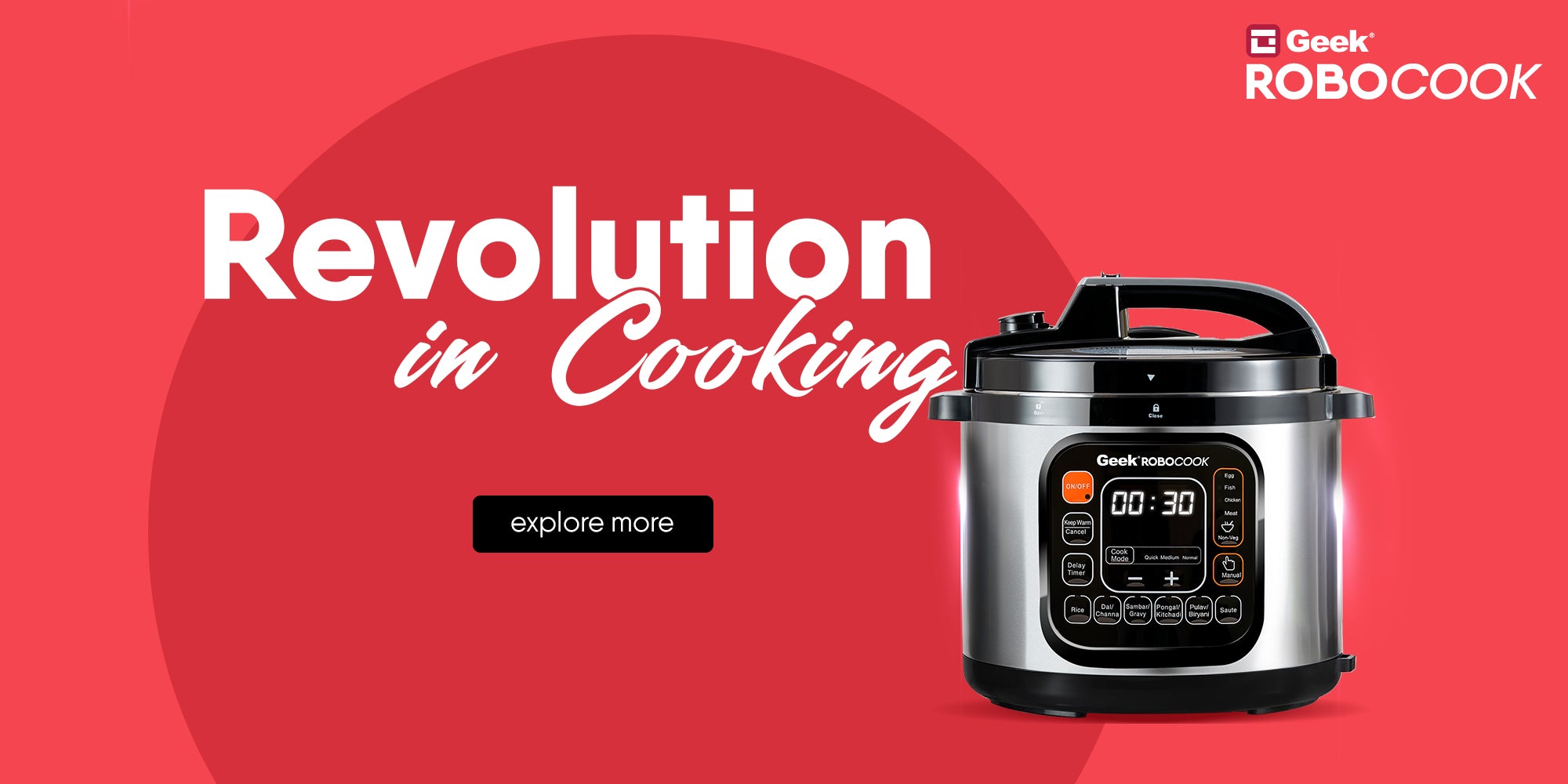 This intelligent automatic cooking device comes with a pre-set digital menu, eliminating the need for constant supervision and a Recipe App hosting 1000+ recipes.
It serves as a multifunctional marvel, replacing up to 11 traditional kitchen appliances. 
Geek further expanded its product line, introducing technologically advanced Air Fryer oven GEEK AiroCook equipped with digital screens, simplifying the cooking/ baking process further.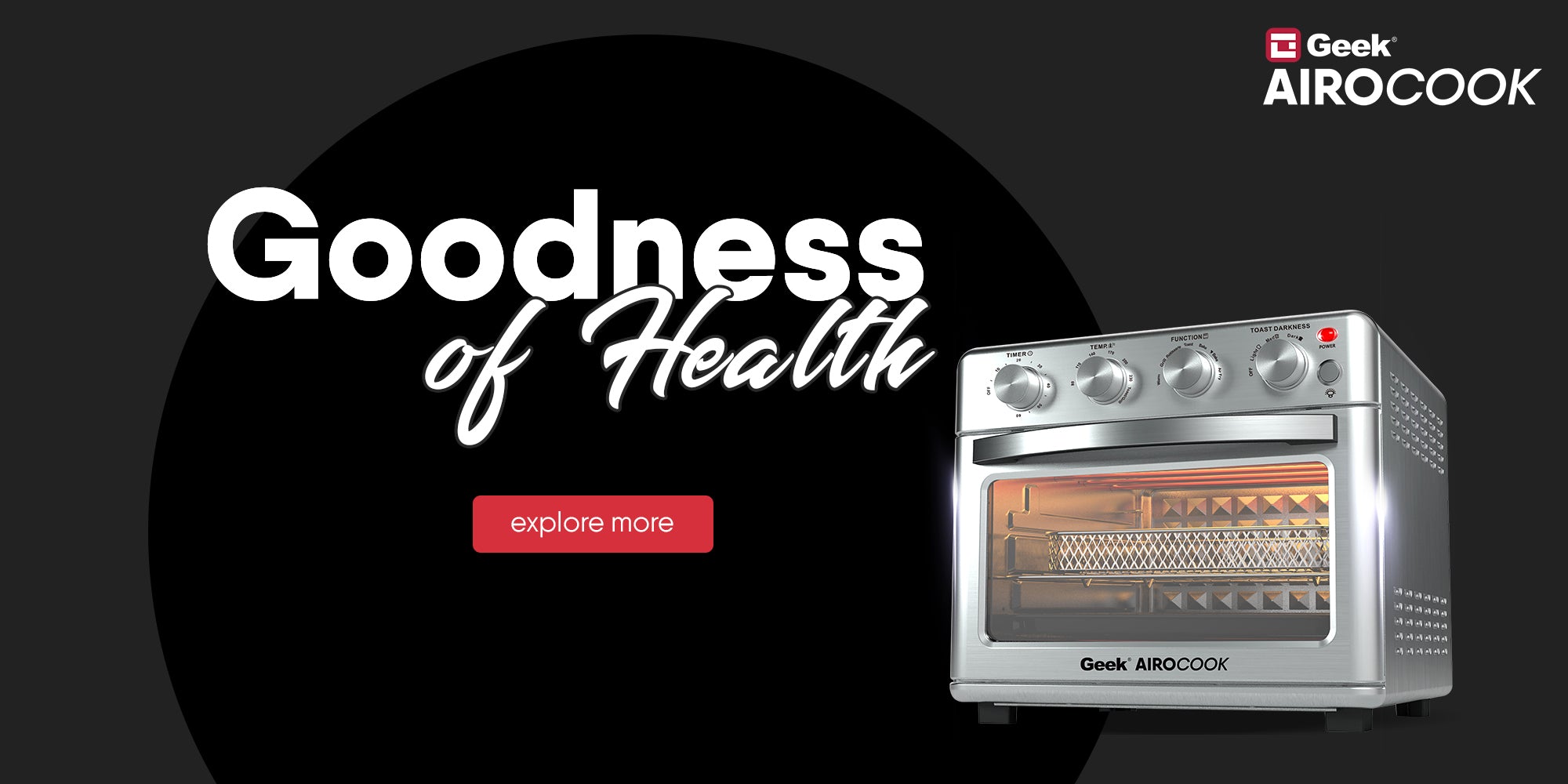 Today, Geek offers various electric and tech driven kitchen and home appliances like electric pressure cooker, air fryer oven, rechargeable fans, smart locks and vacuum cleaner.
Growth and Numbers
Currently bootstrapped, Geek's commitment to innovation and customer happiness has garnered a loyal customer following.
Operating primarily as a digital-first brand, Geek's revenue predominantly stems from online sales channels like Amazon, Flipkart apart from their brand website.
According to an interview with Startuppedia, Geek's revenue for FY23 is at a GMV level of Rupees 35 crores. 
Recently, they piloted offline presence in premium appliances outlets in Chennai including Viveks, Poorvika, Pothys with plans to collaborate with national level appliance chains. 
Looking ahead
Geek's founders envision a future where technology seamlessly integrates with daily life of their customers. 
Their focus is on developing technology based IoT enabled appliances, enhancing healthy living and convenience all managed through a singular mobile app. 
By addressing the specific needs of Indian households and embracing cutting-edge technology, Geek Technology is transforming kitchens inline with the brand vision – Bring the Future Home.