Startups with rare ideas are always exciting, especially when the ideas are so rare that it takes you a second to digest them and look at them as an actual business with potential.
Founded by Aby Baby, Dolphin IBA is an organic skincare brand that makes beauty products using donkey's milk. The brand ships to 40 countries in the world. Its clientele also includes celebrities from Hollywood.
How Dolphin IBA started 
Aby studied computer science and then began working in the Information Technology sector in 1996. This was in Bangalore.
The drive to start something of his pushed him to enter the space of beauty. But this was a pretty saturated industry, and Aby didn't want to do what everyone else was doing.
He did a lot of research and finally came up with the idea of using the extremely unique ingredient of donkey milk. Aby says that the Bible reaffirmed his belief in the benefits of donkey milk.
In 2008, Any began the journey towards product research.
He started experimenting in his own kitchen in Bangalore. That's when he realized that donkey milk cannot be used in products in its original, liquid form – it had to be converted into a dry form.
Later, he set up Dolphin IBA. In 2016, he purchased 31 donkeys from Tamil Nadu and brought them to his 2-acre donkey farm in Ramamangalam.
Dolphin IBA  – The Brand
With the farm set, Aby began putting together a team of experts.
One thing led to another, and the Dolphin IBA factory was also set up just one kilometre away from the farm.
Today, the donkeys on the farm have a specific diet. They are fed wheat, rice bran, coconut husk, and CO3 grass with a high level of crude protein content.
At the factory, Aby's team of experts works on formulating donkey cosmetics and cosmeceuticals.
The products are made following a very detailed, specific process: 
In the first step, the donkey milk is frozen at -40 degrees Celsius.

Then the freeze-drying method is used to remove water. It must be mentioned that this method uses high-end technology and compresses the milk without letting go of its useful properties.

The outcome is a dry powder that has all the benefits of donkey milk.
Dolphin IBA's product range includes donkey milk shower gel and shampoo, a facial kit, morning and evening creams and some skin-tightening products.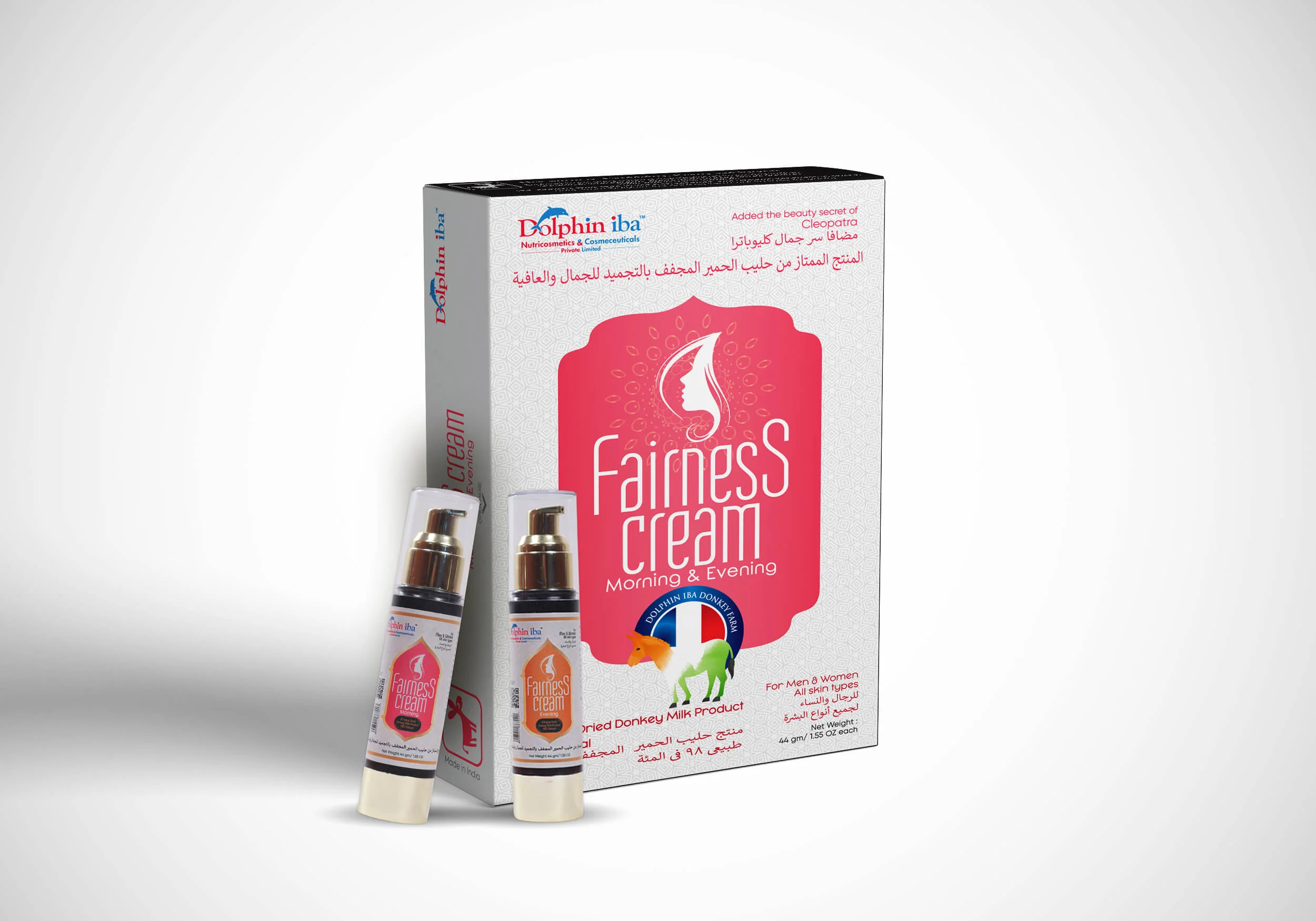 The price points of the products are between Rupees 2,400 and Rupees 7,000.
Founder Aby claims that donkey milk has properties that can cure deficiencies of T lymphocytes in the adaptive immune system.
According to him, these products help in:
Making the skin softer.

Removing blemishes from the skin.

Fighting skin ailments like psoriasis and itching.
In India, Dolphin IBA sells through Amazon. The brand also ships to 40 other countries.
In the future, Aby wants to introduce a luxury premium skincare brand under Dolphin IBA.
To know more about the startup and buy its products, click on its website.