Eshwar K Vikas and Sudeep Sabat co-founded kitchen automation and robotics startup "Mukunda Foods".
The two co-founders met when they were doing engineering at the same college in Chennai. Interestingly, they both shared rooms when they were pursuing their engineering courses. The roomies used to explore a lot of famous and offbeat food hubs in the city.
Sudeep, who hailed from Odisha, had a special love for south Indian foods, especially Dosas.
Rise of the Startup
Since they have shared an interest in exploring good food, they have had a dream of owning a chain of South Indian restaurants across the globe. In light of that, they opened a Quick Service Restaurant (QSR) in 2013. 
However, it faced several challenges, including inconsistency in its outlets, which had a significant impact on its customer base. 
In 2014, the duo realized how important kitchen automation is. Thus, Mukunda Foods changed its working model from a QSR to a food automation company.
After four years of rigorous research, they came up with their first-ever product, named Dosamatic, which produces crispy dosas in a golden brown color without any effort. Just switch on a button, and that's it.
Development of Dosamatic and Invention of More Machines
The dosa machine can make around 50 dosas per hour. At the same time, the machine is capable of making multiple dosas and cleaning itself. Over 1,000 Dosamatic have been sold so far. 
"To manufacture the machine, we first sought help from a group of chefs who explained the ingredients, consistency, temperature, and all related matters. We incorporated each of their suggestions to make a customizable machine which can make not just dosa but any batter-based food items," says Eshwar, the CEO and co-founder of the company The Better India.
As their first product, Dosamatic, became a big hit, especially in the B2B market, the company has received multiple requests to come up with manufacturing machines to make samosas, momos, french fries, gravies, burgers, and more.
Without wasting much time, Mukunda Foods came up with three more machines; Wokie: which is used to make Chinese, Indian, and Thai food; Rico: Which is an automatic pasta, rice, and noodle maker; Eco-fryer: the machine to make momos, samosas, fries, and burger patties with less oil.
Soon after launching three products, they came up with one more machine, E-pan, which helps to regenerate frozen, baked, fresh foods like flatbreads, patties, and kebabs to their original authentic taste.
The brand has over 3,000 customers currently and has also served giant players like ITC, Good Flipping Burger, Biggies Burger, Ola Foods, Carnival, Wow!, Chaayos, Rebel Foods, Momo, etc.
The startup has a wide customer base in around 22 countries, which includes elite partners like Rashtrapati Bhavan and INS Jyoti naval ship.
The brand has also hired Ramchander Raman as co-founder and Rakesh Patil as CTO. Mukunda Foods has also hired 150 employees.
The company is employing AI (Artificial Intelligence) and MI (Machine Intelligence) to help customers save valuable resources like time, money, and energy. It can make the machines work 3 to 4 times faster to produce the food items, and that too, in a much healthier and more hygienic way.
To make things much easier, the company is providing multiple Android applications to come up with new recipes, monitor machines remotely, and also for request services.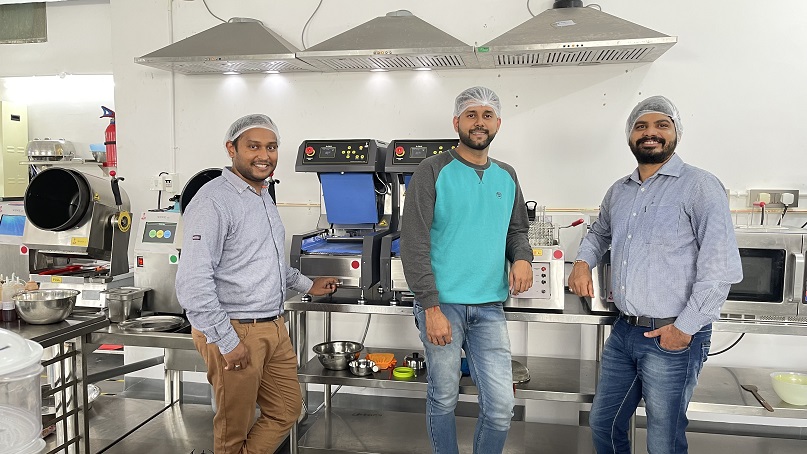 Revenue and Future Plans
Their machinery ranges from Rs 40,000 to Rs 2,00,00. Every quarter, Mukunda Foods ships around 350 machines.
The founders' aim is to automate all the restaurants in the country. The team also aims to develop new machines to cook other varieties of food items.