How many times have you picked up a shampoo that claimed to work on dry hair but ended up doing close to nothing to yours? 
What about hair products that you feel are designed for your hair type, but only after using them do you realize they're just beautiful smells and fancy words that were marketed in a tactful way?
For the longest time, Indians have been using hair products that don't target specific issues and only have general solutions attached to them. 
For instance, a dry hair shampoo may work on a type of dry hair but may not work on another type of dry hair, say, frizzy hair.
This glaring gap in the hair care industry was noticed by Ayush Mahesh Verma, who then established Ravel in 2021 with the aim to offer customized hair care products for various hair types and solutions that are individual to people.
How it began
Ayush Verma came to Mumbai and finished a degree in Computer Science engineering. 
But wanting to do something of his own and start a business was always his goal for him. The entrepreneurial spirit in him was an undying one. That is also the reason why Ayush didn't take up a job after his graduation.
After college, he went on a tour and visited different places in India. This tour opened his eyes to the huge gap in the hair care industry in the country. 
Ayush Verma found that every region had a different climate, and that's why people had different hair types and issues. 
He instantly recognized a pain point here – the same hair products are sold to everyone regardless of the issue they're trying to treat.
In January 2021, Ravel was launched by Ayush to address the above gap in the market.
Ravel: the brand
Ravel is a hair care brand that offers customers a science-backed test form that they're required to fill out first. 
This form includes everything from gender, hair type, lifestyle, stress levels, hair issues, intensity, etc. 
Then, based on these responses, a customized hair care product is formulated for each customer.
The speciality of Ravel is that it is a brand that offers made-to-order products. All of them have unique blends of natural ingredients.
Unlike other brands in the domain that rely solely on computer algorithms to customize products for customers, Ravel puts an expert to the task as well. 
There are 50 billion combinations, and hair experts carefully assess the specific needs, lifestyle, habits, and goals of each customer to come up with a blend that is individual to them.
Ravel also follows up with its customers and keeps a check on their individual progress and concerns in the journey.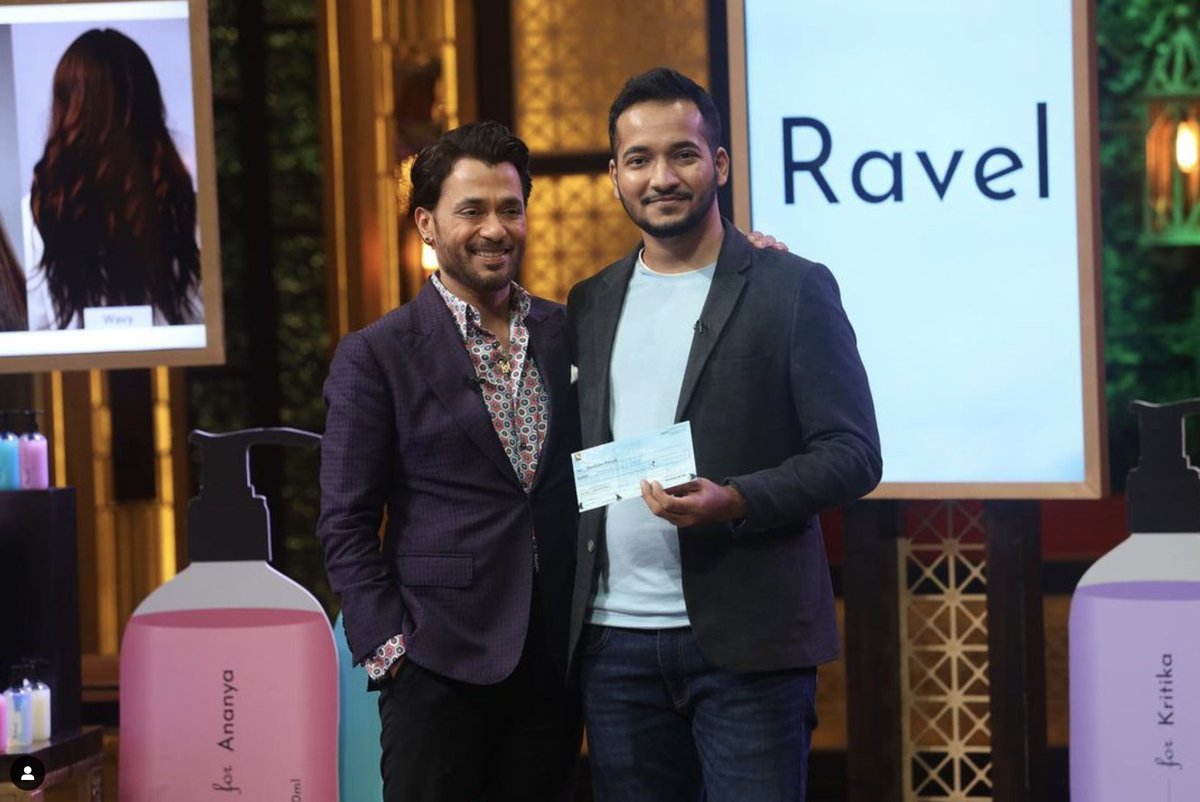 On Shark Tank India
Since its inception in 2021, Ravel has witnessed significant growth.
The brand made sales worth Rupees 1.55 crore from January 2021 to March 2022. And in FY 22-23 (till date the episode was shot), Ravel made sales worth Rupees 1.4 crore.
The brand's monthly net profit is Rupees 5.5 lakh rupees.
On Shark Tank India, Ayush Verma asked for Rupees 75 lakhs for 2.5% equity in the company.
After a bit of negotiation, he accepted Anupam's conditional offer of Rupees 75 lakhs for 7.5% equity of the company, on the condition that in the next two months, Ravel will achieve a monthly profit of Rupees 7.5 lakh.
To know more about the startup, visit its website https://www.ravelcare.com/.