Founded in 2017, Villa Mart is an Odisha-based mobile marketplace startup that is dedicated to helping farmers sell their produce at justified prices and improve their income in the process.
The farming community in India has struggled for far too long with various issues like crop failure, inadequate irrigation facilities, unfair prices, and weather changes. Farmer suicides are a huge concern, with many people taking their lives owing to the pressure of mounting debts and bad yields.
In 2016, while studying for his post-doctoral degree in material science in the United States, Ramesh Biswal heard about the mass farmer suicides in India. 
The issue hit close to home as his own father is a farmer, and Ramesh saw the hard work and challenges farmers face to make ends meet. He decided to return to India and use his knowledge and degree to help his homeland.
The launch of Villa Mart
In 2017, Ramesh launched Villa Mart, a market on wheels that aims to reduce labour costs for farmers and provide them with a one-stop solution to sell their produce. 
The platform procures grains, fruits, and vegetables from the farmers and sells them to consumers in villages. Ramesh modified a van to resemble a mini-supermarket, driving it through villages to sell the produce.
Villa Mart faced a major issue in the system – market linkage. The team realized that until they had a marketplace, they would not succeed despite their research. Ramesh's next goal was to set up a mandi (market) for farmers to buy and sell their produce. 
Villa Mart has since grown to have a fleet of seven vans, is connected to over 3,000 farmers from all over Odisha, and has reached 110 villages.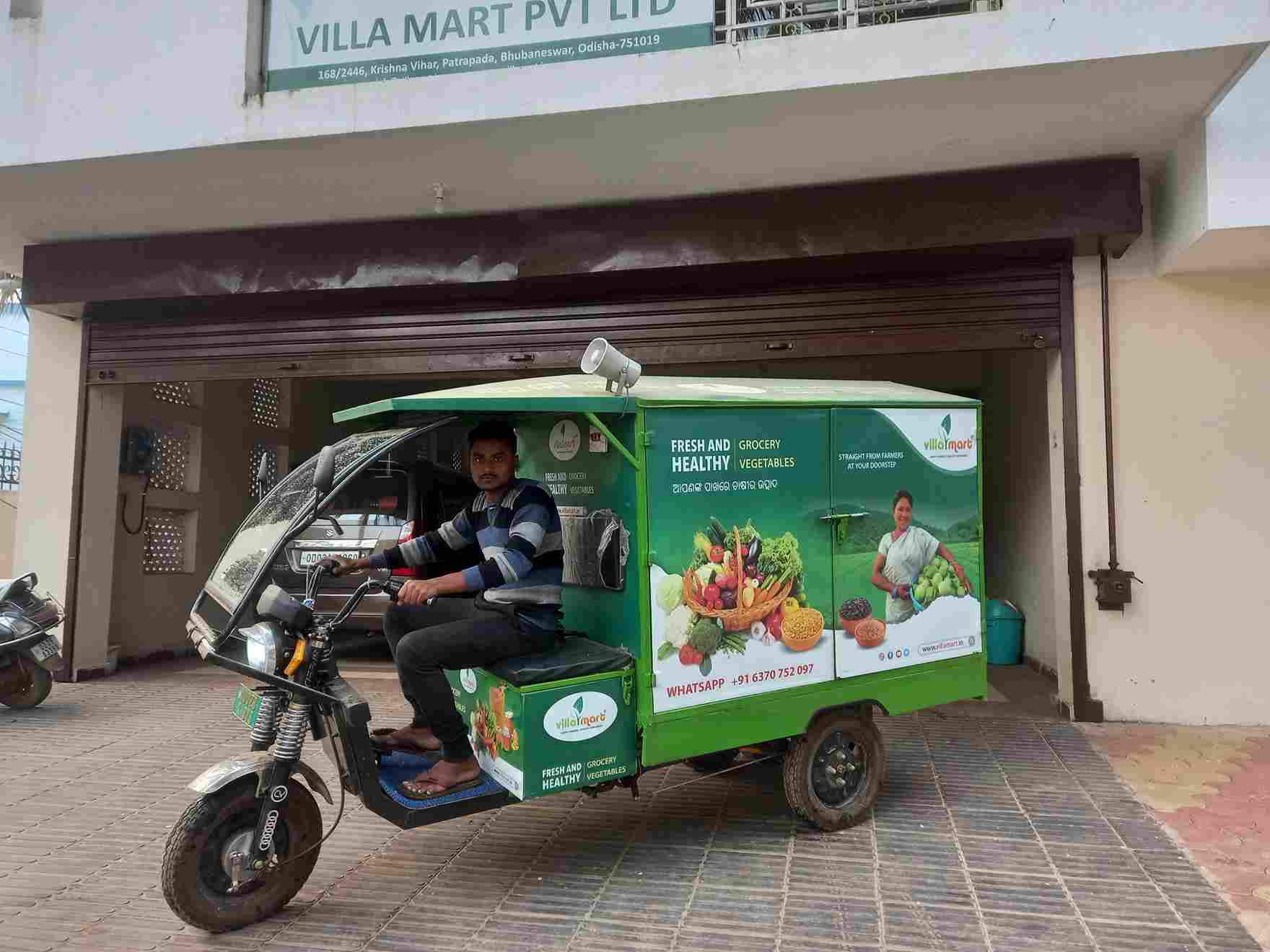 The working
The process is simple:
The farmers book a slot for when they will harvest their produce and have it ready. 

The vehicle then goes to the farms and brings the produce to the procurement center, where it is graded and sorted.

Grades A and B are for the produce that is fit to be sold directly, while grades C and D are kept aside. Grades A and B are kept in cold rooms for a week, while grade C is treated with solar dryers to create sellable products such as fruit juices, sun-dried tomatoes, and powdered spice flavorings. Grade D produce is turned into compost.

Villa Mart also uses artificial intelligence sensors at the procurement unit that efficiently detect the quality of the produce, crop disease, and so on.
They plan their selling schedules for the next day in a way that creates a balance of demand and supply. The farmers are paid immediately when their produce is bought, and the team aims to pay them 30 to 50 percent more than MSP, with plans to double it in the coming months.
Additionally, Villa Mart offers farmers prices that are 30% to 40% higher than the MSP.
Villa Mart not only connects with farmers but also with Farmer Producer Organisations (FPOs) and guides them on selling their produce. 
Ramesh explains that his inspiration for Villa Mart came from the US model of research, which focuses on solving societal problems. 
He wanted to create a solution that was both innovative and cost-effective. Ramesh's goal was to provide farmers with a marketplace where they could sell their produce without walking miles to mainstream markets.
Last year, the startup crossed a turnover of Rupees 4 crore.
Today, the startup has a fleet of seven vans and serves 3,000 farmers across Odisha. Since its inception, Villa Mart has covered 110 villages.
Ramesh Biswal has been able to create a solution that benefits not only farmers by doubling their income but also the consumers in the villages who now have access to fresh, locally sourced produce.