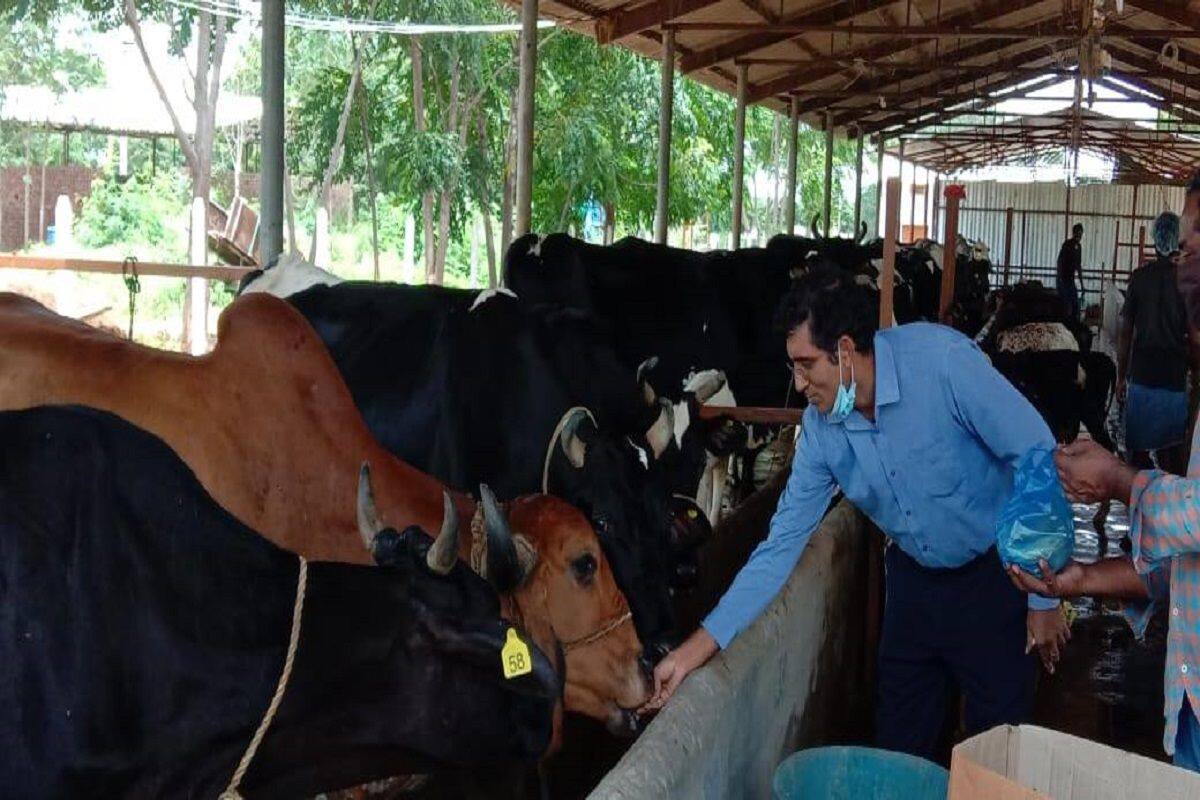 It is said that following your dreams will always bring you success. But how often do we witness someone giving up a luxurious lifestyle to return to their origins and live a humble life? This IIT alumnus has a remarkable storey to tell. Kishore Indukuri left his work at Intel in the United States and went to India to pursue his agricultural origins. In Hyderabad, he established Sid's Farm, a dairy farm that began supplying pure milk to clients on a subscription basis.
Quitting a well-Settled Life for a cause
Kishore Indukuri, like many of his contemporaries from middle-class households, desired to study and work in the United States. After earning his Master's and PhD in Polymer Science and Engineering from the University of Massachusetts, Amherst, and taking a position at Intel, the IIT Kharagpur graduate's dreams became a reality. However, after six years on the job, Kishore realised that agriculture was his true calling. Kishore's family in India had some property in Karnataka, and he used to accompany them on field visits and interactions with farmers.
A Vision to work for
He made the decision to leave his career and return to his farming origins. When he returned to Hyderabad, he discovered that there were few choices for cheap, pure milk. Not just for his kid and family, but also for the people of Hyderabad, he wanted to make a difference. He was motivated to create his own dairy farm and milk brand as a result of this. He purchased 20 cows from Coimbatore in 2012 and established a dairy farm near Hyderabad. Kishore began delivering milk directly to city residents on a subscription basis, and his company grew. He and his family began milking cows themselves and delivering organic milk to consumers' doorsteps. Eventually, they invested in an install-freeze-store system to ensure the longevity of the milk from the time of milking to reaching their customers.
"Nothing was a cakewalk since it was an operationally intense company environment and I had to rapidly get acquainted with it," Kishore recalls of the obstacles he faced. We began selling milk directly to clients with the first 20 cows. Because most people's days begin with chai or coffee, milk should arrive by 6 a.m. So, around 4 a.m., we used to milk the cows. However, as demand grew, we had to keep pushing back the time for milking the cows, which was a tremendous struggle to keep up with."
From IIT to 44 Cr Entrepreneurship Journey
Kishore's dairy farm, which he dubbed "Sid's Farm" after his son Sidharth, served over 6,000 clients in 2016 and delivered around Hyderabad. His farm in Shabad has grown to 120 people and has an annual turnover of almost Rs 44 crore as of today. He sells organic milk as well as milk derivatives such as curd and ghee. Sid's Farm presently serves over 10,000 people every day. Kishore was virtually bankrupt by 2014, having spent all of his resources on the farm. Sid's Farm contained over 60 cows, each of which cost around Rs 60,000. The initial investment was about Rs 1 crore, with an additional Rs 2 crore added afterwards. They also secured a Rs 1.3 crore term loan from banks.
Though the dairy's success was meteoric, Indukuri said that the early days had been full of hard labour and hardship for him and his family, who toiled at the farm to assure fresh milk supply to their clients. Kishore's farm employs cutting-edge technology to ensure that everything they produce is of the highest quality. "Our target consumers are millennial parents or any parents with kids, and health-conscious people who would prefer to drink unadulterated pure milk," Kishore says of their target demographic of millennial parents with children.
Setting a Benchmark in the society
Sid's Farm began by producing only cow and buffalo milk but has now expanded to include full cow and buffalo milk, cow milk butter, skim milk, cow milk ghee, buffalo milk ghee and butter, cow and buffalo curd, and organic paneer. The farm employs advanced technologies to assure food quality and wants to appeal to millennial parents with children. While Covid-19 has harmed the milk industry, Indukuri's farm has continued to produce milk despite the epidemic. Sid's Farm currently plans to expand its product categories and services to places outside of Hyderabad, such as surrounding towns and cities such as Bengaluru.
Kishore is a living example and source of inspiration for those who are unhappy in their jobs and want to pursue their hobbies but are unable to do so. Kishore made a bold decision in 2012, yet he has achieved his passion and ambitions through hard work and commitment.