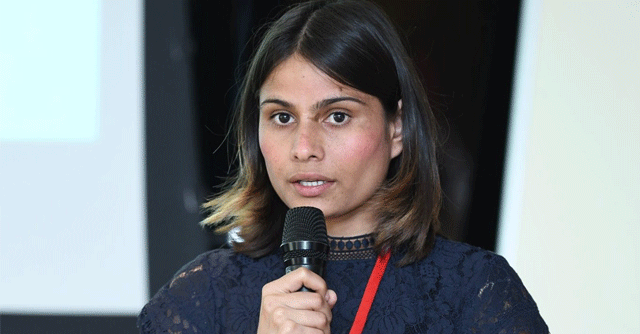 For decades, inefficiencies in the supply chain have harmed India's small and marginal farmers, who have failed to get a decent price for their products, contributing to hoarding and food waste. While some startups have attempted to bridge the gap by reaching out to farmers in India's interiors, their scope is restricted. Agrowave, headquartered in Gurugram, is attempting to capitalise on this by using mobile pickup stations to meet farmers at the farm gate rather than transporting them to mandis and other markets.
Anu Meena: the Journey from Rural Place to the CEO
Anu Meena grew up watching her grandfather, a farmer, struggling to sell his crops. She began to consider technological solutions to his problems, such as obtaining a good price for his vegetables. But it wasn't just about her grandparents or a single farmer for Anu: "It's about India's 13 percent GDP coming from agriculture — a largely unorganised market." Anu founded AgroWave in 2017 with the aim of providing the best price to farmers by removing middlemen and optimising the agriculture supply chain through science, analytics, and technology. The aim of Agrowave was to provide better returns to small and marginal farmers.
Agritech startup solving problems
New fruits and vegetables are procured from producers and distributed directly to companies through the startup. The company relies on automation and logistics to purchase supplies from producers and sell them directly to consumers, cutting out the middleman. It does so by using analytics to balance demand and supply by forecasting demand based on historical evidence.
The templates assist producers in setting the best price for their goods and streamline the supply chain for a variety of commodities. Agrowave will also use the funds to map the routes of its pickup trucks, as well as its numerous storage centres, which serve as delivery points, and warehouses. . In the last year, the company claims to have earned 60%-70% of its business through its farm-to-mandi chain and 30-40% through the demand-side chain. 
Agrowave : An Attempt To Revolutionise The Agricultural Sector
The young-led startup, which has been operating for seven months, uses technology to link farmers and businesses. They raised an undisclosed sum in a seed round and are selling over Rs 50,000 in a single day.
Caterers, grocery stores, pubs, and canteens are among AgroWave's regular clients, who number in the hundreds. In Delhi NCR, Haryana, Punjab, and other northern Indian states, the organisation claims to be operating with close to 3.5K farmers, 250 merchants, and 300-400 companies. Farmers in Panipat, Sonipat, Harpur, and Rajasthan supply the organisation, which is headquartered in Gurgaon. Agrowave currently employs 20 people and produced $3.7 million in sales in the fiscal year 2020, up from $2.1 million in the fiscal year 2019.
Anu Meena has been recognised for her achievements by being added to the Forbes 30 under 30 Asia list, India Today Magazine's Top 10 Innovators in India, and the Ministry of Social Justice and Empowerment. She has also spoken at Wired Next and is a TEDx speaker.
The glowing future of agro wave
Though farm-to-table businesses that aim to benefit both customers and farmers have sprung up all over India, they have yet to grow and make a major impact on the existing procurement system. AgroWave sets itself apart by focusing on companies and acting as a farm-to-business provider. Their software is currently being developed; the team intends to release both a farmer and a consumer app. They want to begin supplying vegetables and fruits to Rajasthan as well.
Agrowave plans to expand its services to various villages in the coming months in order to create a deep network of farmers and expand its reach to Rajasthan, Madhya Pradesh, Uttar Pradesh, Haryana, Maharashtra, and Bihar. They're still hoping to raise $10 million in financing by 2021 in order to expand. Anu Meena has come a long way from a small village in Rajasthan to become the founder of a software firm that plans to introduce new technologies.